Posted by Ellie Stewart on 3rd May 2022
Artists Muhammad and Sameera Waqas share a love for the unique beauty of Arabic calligraphy. Meaning 'Eid Blessings', Eid Mubarak is the first stamp issue from NZ Post to recognise New Zealand's Muslim communities and the fasting month of Ramadan. We spoke to the creative couple about their work and community.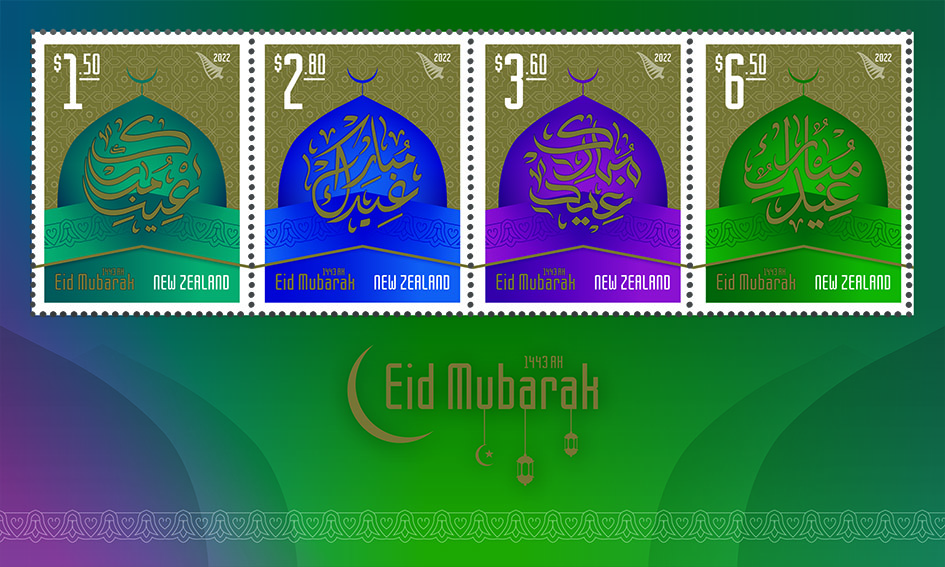 What is the significance of Arabic calligraphy in Islam?
Arabic calligraphy is a fundamental element of Islamic art and floral motifs, and geometric patterns, which are arabesque in nature, are used to decorate the calligraphy. The arabesque patterns represent the transcendent, indivisible and infinite nature of Allah (God).
Arabic calligraphy is sacred to Muslims as the Holy Book of the Muslims, The Qur'an, was revealed in Arabic language 1,400 years ago by Prophet Muhammad. Over the centuries the art of calligraphy has been refined and developed into a phenomenon of hard work and practice by Muslim artists around the globe. In Muslim architecture, Arabic calligraphy is also used to decorate the interiors and exteriors of mosques and other buildings.
Can you explain the different styles of Arabic calligraphy?
There are two main calligraphy styles - traditional and modern Arabic calligraphy. The traditional Arabic calligraphy style has six principal cursive scripts, which are Thuluth, Nasta'liq, Dewani, Nasekh, Reqa, and Kufi. Some of the modern Arabic calligraphy styles are Al-Wissam, Sunbali, Square Kufic, and Freestyle. There are many other scripts evolved from these calligraphy styles.
We have used a combination of both modern and traditional calligraphy styles for these stamps. The scripts include Thuluth, Dewani, Al-Wissam and Freestyle. Thuluth script is the master of all scripts and the most beautiful due to its charm and elegance. Dewani is a cursive style of Arabic calligraphy that is difficult to read and write due to its heavy stylisation, whereas, Al-Wissam and Freestyle calligraphy is modern and beautiful due to its curves, flows and elegance.
Is there any significance in the colours and patterns used in the stamps?
We've used a custom geometric pattern in the background of the stamps, which is one of the main elements of Islamic art. The dome shape is an illustration of Al-Noor mosque's (Christchurch) dome.
We used fresh and vibrant colours in these stamps, like gold, green, blue, purple and turquoise to reflect the nature of the Eid event, which is all about happiness, caring, and sharing love. These colours coordinate well with each other and create the visual harmony that is an inherent feature of Islamic art.
In Islamic art, different colors have different meanings. For example, when gold is the color of the sky it represents prosperity and success. We've illustrated Arabic calligraphy in gold to give it elegance and class.
What will this stamp issue mean to New Zealand's Muslim communities?
The inclusion of Islamic art in New Zealand stamps is a milestone achievement for the Muslim community in New Zealand. Muslims in Aotearoa will be overjoyed by this beautiful gesture of cultural inclusivity and solidarity from NZ Post. It will give a feeling of belonging. It will also create awareness of this unique and beautiful Islamic art.
How do you and your community celebrate Eid al-Fitr?
Eid al-Fitr is a celebration after Ramadan when Muslims around the globe fast for the whole month of Ramadan. We decorate our homes and dress up in the best of clothes, and every household does special charity work for the poor and needy so no one is left out. We start the Eid day with Eid prayer in congregation followed by meet-and-greet gatherings where we enjoy traditional foods and the company of family and friends. Almost all Muslim households have open doors and welcoming arms for Muslims and non-Muslims alike. Kids are given special treats like money and gifts.
What led you to become artists and how has your practice evolved?
Islamic art has a golden and inspiring history of 1,300+ years, and we wanted to showcase the beauty of Islamic art to New Zealanders. We have always been inclined towards visual arts. I (Muhammad Waqas) am a multidisciplinary visual artist and have always had a passion for Arabic calligraphy and Islamic art. My wife is an abstract artist and works mainly with acrylics on canvas. It was early 2020 when we started collaborating and there has been no looking back. Since then we have had several art exhibitions and displays with the encouragement and support of our community, friends, family and whānau. We are getting good responses from New Zealanders who appreciate our art. Alhamdulillah! (Praise be to God!).
We hope that our paintings illuminate the hearts with love of
acceptance and bring a unique experience of this ancient art form to the people of Aotearoa New Zealand.
What's next for you?
We plan to do more Islamic art exhibitions all over New Zealand and set up a proper studio and eventually switch to being full-time practicing artists. We would also like to offer regular Arabic calligraphy classes. I am now studying traditional calligraphy scripts Al-Thuluth and Naskh and am determined to get my IJJAZZA (traditional calligraphy certification) and share this beautiful art practice with others.
Some of our artworks are a fusion of Islamic and Māori art. We believe it is not necessary to understand the Arabic language or any language to understand a piece of art, and this can be seen in our Arabic calligraphy artworks.
We are open to any sort of collaboration and are keen to work on community projects. You can visit www.mwcalligraphyart.com to find out more.
See the full range of Eid Mubarak stamps and collectables here.